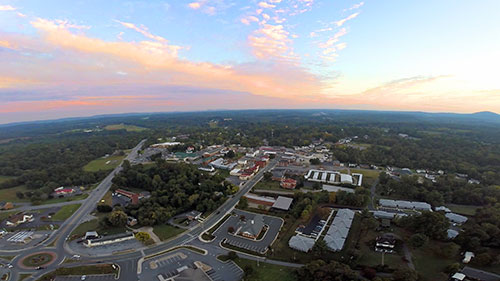 Amherst is a progressive and successful town, and we are proud to note that many have contributed to making it the best of places to live and do business.
LOCATION
The Town of Amherst is located at the base of the Blue Ridge Mountains in Amherst County. Its location in Central Virginia adjacent to Sweet Briar College provides an uncrowded yet cosmopolitan feeling. From the mountains, to the beach, to staying at home, there is no place like Amherst!
ECONOMY
Amherst is blessed with a diverse employment base. Local major employers include the courthouse and county/school board complex, Clorox (plastics), Hermle Black Forest (clocks), Buffalo Air Handling (air handling machinery), Greif Brothers (paper/liner board), and Sweet Briar College.
 HISTORY
The Town of Amherst was established in 1807 and was named after Sir Jeffery Amherst, a British Major‑General who was the hero of the Battle of Ticonderoga during the French and Indian War and later became Governor‑In‑Chief of the Colony of Virginia from 1763 to 1768.
The Town of Amherst was originally known as "The Oaks" and "Seven Oaks" and started as a stage station on the Charlottesville‑Lynchburg road. Amherst has been the county seat of Amherst County since Nelson County was partitioned from Amherst County in 1807. The original courthouse was built in 1809 on two acres of land purchased "from a Mr. Coleman for ten shillings." The original courthouse was torn down 1872 and the present courthouse was built "from homemade brick of Amherst County clay." All Amherst County records have been stored in the courthouse since 1761 when Amherst‑Nelson counties were divided from Albemarle County.
On April 15, 1910 Amherst was incorporated by order of the Circuit Court, and a new charter was granted to the Town by the General Assembly in 1950. The Town has a five‑member Town Council and a mayor who are all elected at large every two years. All powers of the town are vested in the Council who enacts ordinances (local legislation), adopts resolutions and budgets, determines policy, and appoints the Town Manager and Police Chief. The Mayor presides over all meetings of the Town Council and is recognized as the chief executive officer of the Town.
SIZE
Amherst has a population of 2,231 (per the 2010 Census) and a land area of 4.92 square miles.
Town Facts – from 2010 Census: