Request for Town Code Codification Services
Request for Statements of Interest in Serving on a Downtown Walkability and Traffic Calming Study Steering Committee
---
Deputy Town Clerk
The Town of Amherst is accepting applications for its Deputy Town Clerk. This is a part-time position featuring research, writing, correspondence preparation and maintaining official records duties and scheduled daytime and evening hours. Qualified individuals are encouraged to apply before May 9, 2016. Information on the Town, this position and application procedures can be found below. EOE.
Application Instructions and Position Description
---
Proposed FY 16/17 Town of Amherst Budget
Public Notice of Proposed Budget Hearing: May 11, 2016, 7 p.m.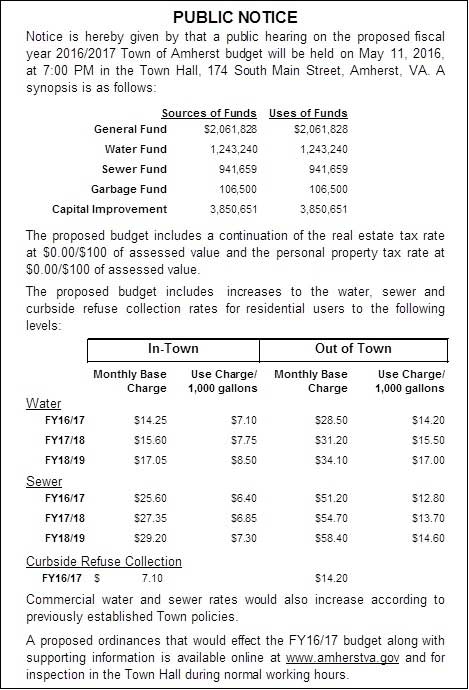 ---
Town Committees
The Town Council of the Town of Amherst invites interested and qualified individuals to apply for appointment to the following committees for the terms indicated:
Planning Commission: July 1, 2016 – June 30, 2020
Board of Zoning Appeals: July 1, 2016 – June 30, 2020
Industrial Development Authority: July 1, 2016 – June 30, 2020
Property Maintenance Investigation Board: July 1, 2016 – June 30, 2019
Applications should be delivered to the Town Hall or to townhall@amherstva.gov by May 27, 2016 via a form available at www.amherstva.gov and in the Town Hall.
---
Town Council Priorities  (Approved March 11, 2015)

The Town is currently accepting applications for the following positions: